Office
POLICIES, PROCEDURES, INSURANCE, & RESOURCE LINKS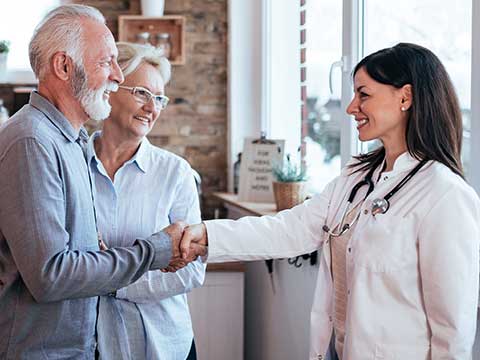 We Respect Your Privacy
Your medical records are confidential. You must request the release of this information to any outside facility or agency. This policy allows us to protect your privacy. Please make us aware of the name and address of your local physician who should receive a report of your hospital or office visits. If additional copies are requested for other physician offices, government agencies, insurance carriers or your personal use, you will be charged for this service. Learn more below regarding policies and procedures.
Office Hours
With the exception of weekends and holidays, our office hours are:
Monday through Thursday 7:00 am to 4:30 pm
Closed Friday
The answering service will forward any emergency calls to the doctor "on-call" when the office is not open. Calls regarding medication refills should be made only during office hours.
After Hours and Weekends
A physician is always available after normal office hours and on weekends and holidays. During these periods, your calls to the office will be forwarded to the doctor on call by the answering service. Please leave a phone number where you can be reached and then plan to be available at that number so your call can be returned.
Only emergency calls should be made at these times.
Emergency Care
During office hours, our staff should be notified if an urgent or emergent problem requiring immediate evaluation has arisen.
Depending on the circumstances, you may be instructed to make a nonscheduled office visit or proceed to a nearby emergency facility for evaluation. If you are unable to reach us, please proceed to your local physician or emergency room.
Phone Calls
Your calls will be answered by our office staff. After discussing your questions or problems with your doctor, a member of our office staff will return your call unless the doctor feels she needs to discuss the matter with you personally.
When you call, please leave the phone number and time of day you will be available.
Prescription Refills
Requests for prescription refills are handled during regular office hours and will be filled within 72 hours. Please have the name and telephone number of your pharmacy as well as your labeled medication bottle handy if you call our office. Always check with your pharmacy before contacting us as refills may still be available on your present prescription.
Payment Policy
It is customary to pay fees at the time of service. We accept cash, check, or credit card as forms of payment.
When additional documentation is required for insurance purposes, we reserve the right to charge a fee for the service.

Insurance Policy
We are non-par with Medicare. We do file all services received in our office.
Insurance Providers
We are participating providers with the following insurance companies and networks:
Aetna
Allegiance with Orlando Healthcare
Multi Plan with CFMA network
Cigna Healthcare
United Healthcare
UMR
Before making your appointment, please check with your insurance company to verify that we are a participating provider.